"[...] With an as poetic as playful touch, an intimate soundscape that felt at once familiar and alien was conjured. The mixture of everyday objects and musical instruments created an evocative mood. [...]"

"This was my third close collaboration with violinist Karin Hellqvist. The soloist also plays the role of a conductor, like in a concerto from the Baroque."

"[...] Sounds of glass and metal picked up where the electronics left oft, and the effervescence was picked up by the voice in repeated, ultrarapid "Praise the Lord". The attention was heightened by subtle playing on flower pots and gongs, as if in an alchemist's laboratorium [...]"

"(...) The night image is particularly apt for Jenny Hettne's exquisite While she was dreaming, scored for violin and tape."

"…both surrealistic and groovy…"

"An orchestra piece with a subtle sonorous poetry that adjoins the fascinating world of electroacoustic music."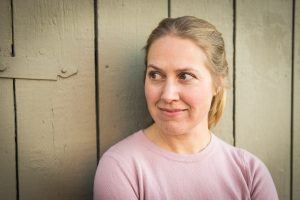 Jenny Hettne is a composer of acoustic and electroacoustic music, with the exploration of sound and timbre as her most important focus. She writes mainly chamber music, sometimes mixed with electronics and always in a close and innovative collaboration with the musicians.
Jennys music has been selected to festivals such as Seoul International Computer Music Festival, Purpur Festival (Cape Town), MATA festival (New York), Huddersfield Contemporary Music Festival, Two days and two nights of new music (Odessa, Ukraine), Festival Archipel (Geneva), St Petersburg International New Music Festival reMusik, Dark Music Days (Reykjavik), Klang (Copenhagen), Göteborg Piano festival, Kalvfestivalen, Sound of Stockholm and Svensk Musikvår (Sweden) and Nordic Music Days (Stockholm 2012 and Copenhagen 2015).
Jenny finished her master degree in music composition at the Academy of Music and Drama, Göteborg University, in 2008. Jenny is a board member of The Swedish Society of Composers and vice president of Samtida Musik. She was one of the curators of Nordic Music Days in London 2017.