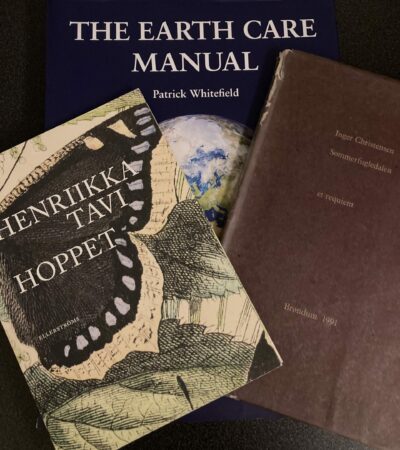 Texts by Inger Christensen, Henriikka Tavi and Patrick Whitefield.
T(h)ree (2021)
For voice, harp, percussion and electronics
I. Habitat
II. It's irreversible
III. Som blåvinge, sorgmantel, amiral
Because of new agricultural practices, pastures have become overgrown wasteland. Open, dry environments are rich in species but changes affect them in a devastating way. Plants, insects and animals enrich one another in an intricate cycle that is fragile and where species consequently disappear.
The complexity of nature was an inspiration for the piece T(h)ree for voice, harp, percussion and electronics. As in a biodiverse environment the different sound worlds contrast and interact in the piece. Flower pots in different pitches, wood, pea pod, gongs and singing bowls interplay with harp, voice and electronics, in which the sound files are a mix of field recordings and sounds from pots and gongs.
T(h)ree was written for PERMATRIO (Elisabeth Holmertz, Sunniva Rødland, Sigrun Rogstad Gomnaes) and was premiered in January 2023 at Kroloftet, Oslo.