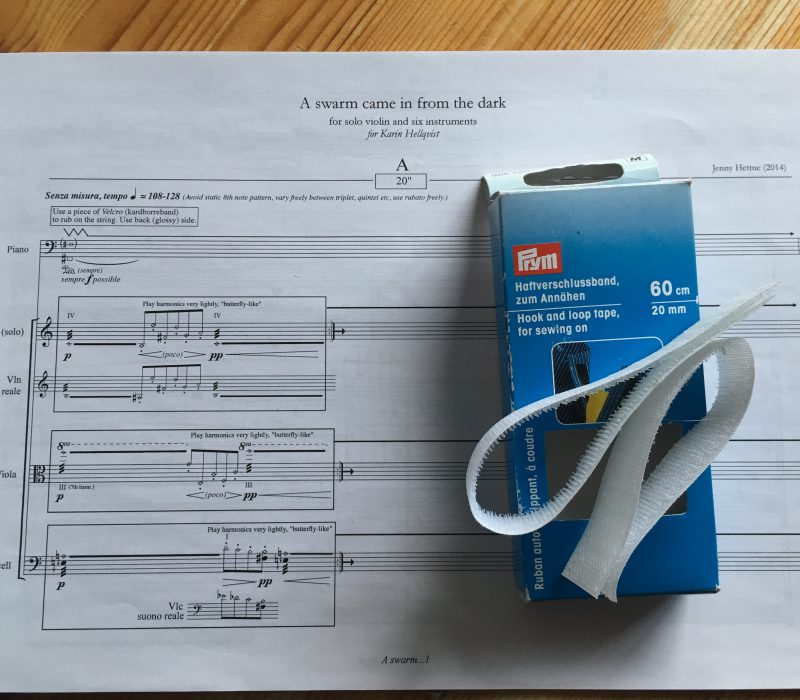 A SWARM CAME IN FROM THE DARK (2014) Gageego!s beställningsverk för solo violin, flöjt, klarinett, piano, slagverk, viola och cello
I A swarm came in from the dark möter vi en myriad av insektliknande ljud: tremolerande fjärilsvingar, surranden, gnisslanden och gnyenden. Det är inte en realism som Hettne söker gestalta utan en inre klingande bild, eller som hon själv uttrycker det: "[…] hundratals insekter rör sig i ett rum. […] De stannar, tystnar – förflyttar sig igen, än hit, än dit. Fjäderlätta fjärilsvingar, knappt skönjbara, eller en hel svärm av vingar som flaxar hårt mot fönsterrutan; Skiftningar mellan ett aggressivt massivt surrande och en ensam individ på vift. Rörelsernas oförutsägbarhet tar sig uttryck i partier av senza misura och a tempo. Solisten intar även rollen som dirigent, likt en solokonsert från barocken. Harmoniskt bygger stycket på stråkarnas natur-flageoletter, där violinen och cellon har varsin omstämd sträng. Ett surrande lågt fiss återfinns i alla instrument."
Den spröda harmoniken och förkärleken för finurliga, surrande ljud är något som går igen i Hettnes musik. En musik som ofta tar inspiration från elektroniska ljud men även en musik där fältinspelningar eller just inre "bilder" av inte alltid strikt musikaliska skeenden fångas och formas i det konstnärliga arbetet. Sedan hennes studietid i Göteborg, där hon även är född, paras blandverk (elektronik och instrument) med rena akustiska verk, alltifrån soloverk till orkester.
Esaias Järnegård, 2015
A swarm came in from the dark (2014) is a piece for solo violin and six instruments. This was my third close collaboration with violinist Karin Hellqvist. The soloist also plays the role of a conductor, like in a concerto from the Baroque. Harmonically, the piece focuses on the natural harmonics of the strings, where the violin and the cello uses scordatura. A buzzing low f sharp echoes in all instruments.
Durata: 11′
Score available for download.
Other performances include:
Performance @ Svensk musikvår 2017
Karin Hellqvist and Ensemble Mimitabu. Video by Johan E Andersson.