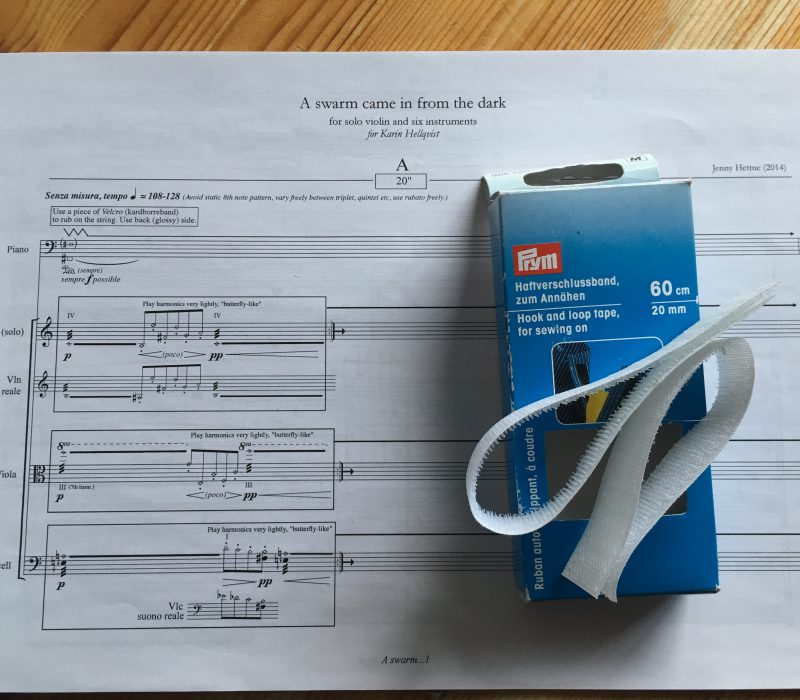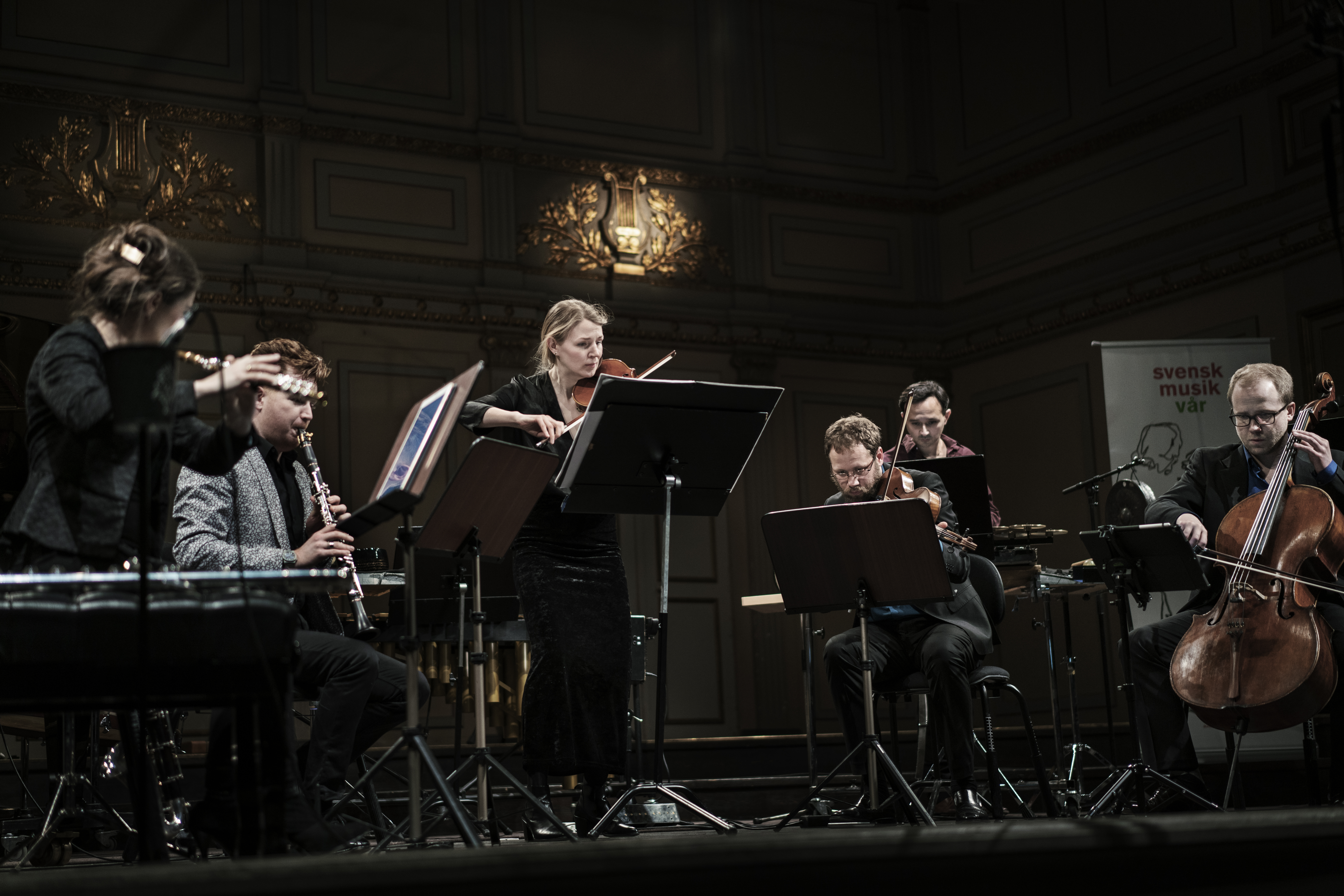 Karin Hellqvist & New European Ensemble performing A swarm came in from the dark at Svensk Musikvår 2019. Photo: Hampus Andersson.
A SWARM CAME IN FROM THE DARK (2014) Gageego!s beställningsverk för solo violin, flöjt, klarinett, piano, slagverk, viola och cello
I A swarm came in from the dark möter vi en myriad av insektliknande ljud: tremolerande fjärilsvingar, surranden, gnisslanden och gnyenden. Det är inte en realism som Hettne söker gestalta utan en inre klingande bild, eller som hon själv uttrycker det: "[…] hundratals insekter rör sig i ett rum. […] De stannar, tystnar – förflyttar sig igen, än hit, än dit. Fjäderlätta fjärilsvingar, knappt skönjbara, eller en hel svärm av vingar som flaxar hårt mot fönsterrutan; Skiftningar mellan ett aggressivt massivt surrande och en ensam individ på vift. Rörelsernas oförutsägbarhet tar sig uttryck i partier av senza misura och a tempo. Solisten intar även rollen som dirigent, likt en solokonsert från barocken. Harmoniskt bygger stycket på stråkarnas natur-flageoletter, där violinen och cellon har varsin omstämd sträng. Ett surrande lågt fiss återfinns i alla instrument."
Den spröda harmoniken och förkärleken för finurliga, surrande ljud är något som går igen i Hettnes musik. En musik som ofta tar inspiration från elektroniska ljud men även en musik där fältinspelningar eller just inre "bilder" av inte alltid strikt musikaliska skeenden fångas och formas i det konstnärliga arbetet. Sedan hennes studietid i Göteborg, där hon även är född, paras blandverk (elektronik och instrument) med rena akustiska verk, alltifrån soloverk till orkester.
Esaias Järnegård, 2015
"En liten men stor komposisjon. I årets vinnerverk finner juryen en komposisjon som utstråler en uimotståelig blanding av vektløs eleganse og en slags folkelig munterhet og selvsikkerhet i behandlingen av sitt materiale; en lett sommervind fylt av lyden av insekter, alt sammen fundert i en musikk som dveler ved det klanglige gjennom å lokke ut av de givne instrumentene uventede lyder og farger som skaper et uforutsigbart og fascinerende spill. Verket er sammenføyet i en lang rekke av korte, slående momenter som går til kjernen av det å komponere, nemlig å kunne variere men å holde fast.
Juryen finner også et forunderlig samsvar mellom lyden og notasjonen i dette verket. Det hele er utformet med uvanlig tydelighet i en nærmest selvforklarende notasjon. Med utgangspunkt i et tradisjonelt instrumentarium tar komponisten et sikkert grep om utformingen av den rike klanglige paletten. Besetningen (her med tillegg av bratsj), som verket er skrevet for, har vært utgangspunkt for utall av verk i europeisk kunstmusikk. Allikevel blir her det klanglige sluttresultatet svært originalt.
Mestedelen av verket, med noen få unntak, foregår i midlere og høyere registre, som for å illudere insektenes verden. Til tross for dette fremstår ikke verket som maniert eller"villet"; De få steder toner fra de dypere regioner settes i spill skaper dette et drama som setter de andre lysere registrene i ytterligere relieff. Selv ved introduksjonen av et instrument som pianoet (spilt på tangentene) i disse skjøre klanglige omgivelser, viser komponisten sin sans for klanglig integrasjon; Verket inneholder her også en form for naivisme som ikke blir forstyrrende men som forteller oss at all musikk sannsynligvis har sitt utspring fra melodien, dette musikalske element som skaper umiddelbar kommunikasjon og gjenkjennelsens glede.
Med dette har Svensk kammermusikk fått et verk som juryen allerede nå våger å utrope til en klassiker, som evner å fortelle, kun ved hjelp av toner og lyder en historie om menneskets utrolige evne til sansning med en etterfølgende personlig farget gjengivelse."
(Juryns ordförande,  Asbjørn Schaathun)
"A small but large composition. In this year's winning work, the jury has found a composition that exudes an irresistible blend of weightless elegance and a kind of popular cheerfulness and confidence in the treatment of its material; a light summer wind filled with the sounds of insects, all rooted in a music that rests in the sound by attracting unexpected sounds and colours from the given instruments and creating an unpredictable and fascinating interplay. The work consists of a long series of short, striking moments that go to the core of what it is to compose, namely to vary but at the same time be able to hold on.
The jury also finds a wonderful coherence between the sounds and the notation in this work. It is designed with unusual clarity in an almost self-explanatory notation. Based on a traditional instrumentation, the composer takes a safe grip on the design of the rich, timbral palette. The setting for which the work is scored, (plus a viola in this case) have been the starting point for a number of European art music works. Yet the sounding result is very original.
Most of the work, with a few exceptions, is in the middle and high registers, as if to give the illusion of an insect world. Nevertheless, the work does not appear to be fashioned or artificial; The few places that tones from the deeper registers are put into play creates a drama that puts the other brighter registers in further relief. Even when introducing an instrument such as the piano (played on the keys) in these fragile, timbral surroundings, the composer shows her sense of sound integration; The work here also contains a kind of naivism that is not disturbing but which tells us that all music probably originated in the melody, this musical element that creates instant communication and the joy of recognition.
With this, Swedish chamber music has been given a work that the jury is already daring to proclaim to a classic, which has the ability only through tones and sounds to tell a story about man's incredible ability to perception with a subsequent personal colored representation." 
(Text by the jury chairman Asbjørn Schaathun. Translated to English by Helena Olofsson at MyGuide2Stockholm, revised by Jenny Hettne).
The inspiration for A swarm came in from the dark (2014) grew from an inner sonorous image: hundreds of insects move around in a room in, as it seems, unpredictable ways. They cease, fall silent – then start again. Subtle butterfly wings, barely audible, or a whole swarm heavily fluttering against the window; changes from an aggressive, massive buzz to an individual on the loose.
The unpredictability of the movements are expressed in sections of senza misura and a tempo. The soloist plays the role of a conductor, like a concerto from the Baroque. Harmonically, the piece focuses on the natural harmonics of the strings, where the violin and the cello uses scordatura. A buzzing low f sharp echoes in all instruments.
A swarm came in from the dark was written for Swedish violinist Karin Hellqvist, to whom the piece is dedicated. It was premiered by Karin Hellqvist & Gageego in 2015, and has been performed by many ensembles since. In 2018 the piece, which the jury "is already daring to proclaim a classic" was awarded the prestigious Järnåker Prize, the biggest chamber music prize in Sweden.
Durata: 11′
Score available for download.
Other performances include:
Performance @ Svensk musikvår 2017
Karin Hellqvist and Ensemble Mimitabu. Video by Johan E Andersson.