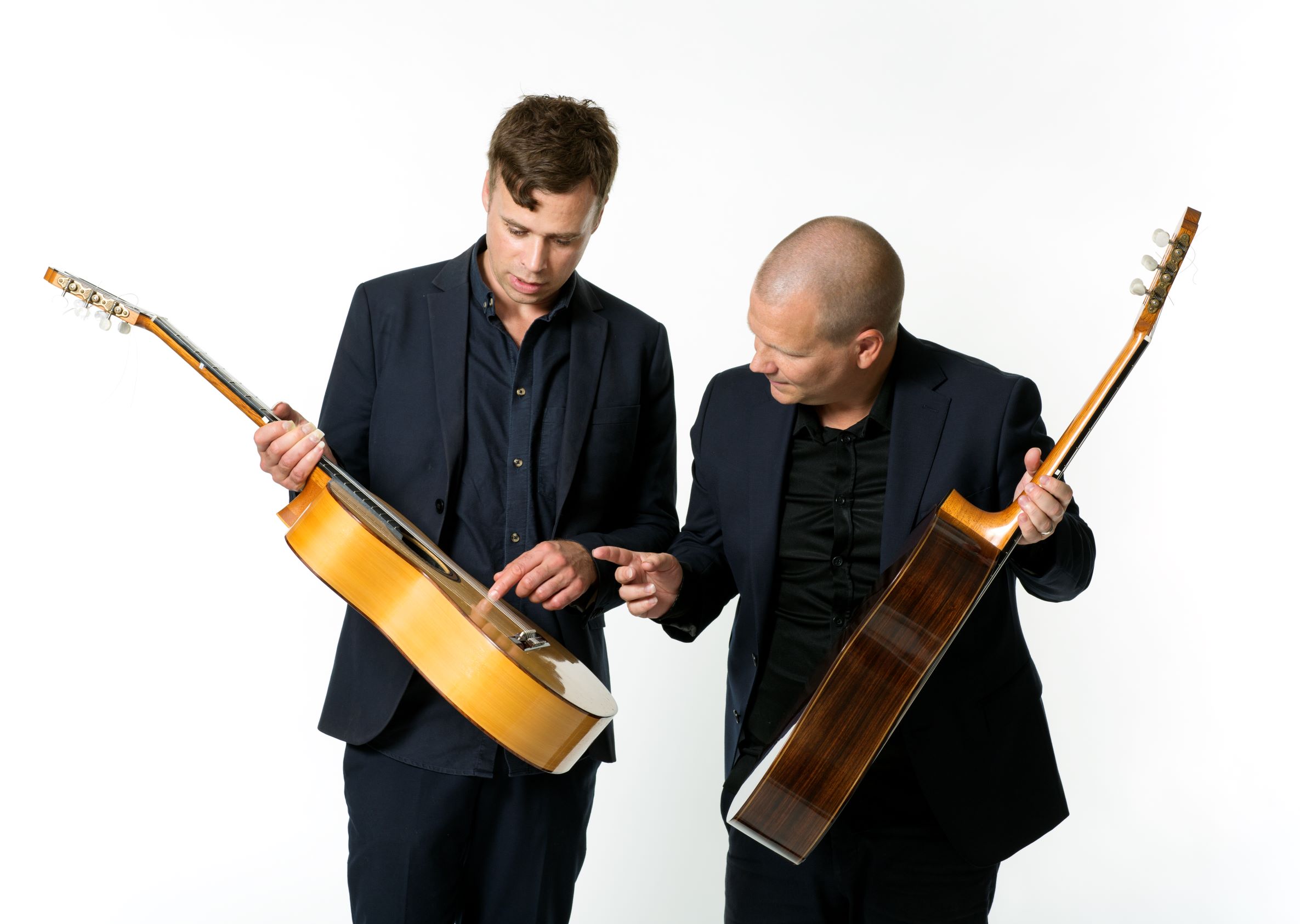 Gothenburg Combo. Photo: Jerker Andersson.
Sweet Thursday (2017) was commissioned by Gothenburg Combo with financial support from the Swedish Arts Council. I was asked to write a short piece inspired by a book that I read in my childhood or youth. I choose a passage from Sweet Thursday by John Steinbeck, one of many absurd side-stories that I like so much in his writing. The guitarists use cloth pegs, brushes and a plunger, reflecting the restless activity in the particular passage.
Durata: 4'30"
Score available at Svensk Musik.
Other performances by Gothenburg Combo include:
Sweet Thursday (2017)
för gitarduo
När jag under tonåren läste Steinbecks romaner fastnade jag särskilt för Det stora kalaset (Cannery Row) och En underbar torsdag (Sweet Thursday) som utspelar sig i Monterrey. Här finns en stämning som på samma gång präglas av tristess och trivsel, en aktivitet som är både stillsam och febril, ett säreget persongalleri samt, det som jag gillar mest, underfundiga och absurda bihistorier. Inspirationen till Sweet Thursday hittade jag i en av dessa historier:
"Mack kände sig inte helt utan skuld när det gällde Henri.
Henri hade byggt en båt, en fulländad liten båt med en trivsam
kajuta. Men han hade byggt den uppe i skogen därför att han
var rädd för havet. Hans båt vilade på cementmallar och Henri
var lycklig där. En gång när det just inte fanns något annat att
göra spelade Mack och pojkarna honom ett fult spratt. De var
uttråkade. De gick ner till klipporna vid stranden och skrapade
ihop en säck full med musslor som de tog med sig upp och
kittade fast på undersidan av Henris båt med snabbtorkande
cement. Henri blev mycket uppskakad, i synnerhet som han inte
hade någon att anförtro sig åt. Doktorn hade kunnat lugna ner
honom, men doktorn var inkallad. Henri skrapade botten och
målade den, men knappt hade färgen hunnit torka förrän poj-
karna var framme igen, och nu satte de dit lite sjögräs också. De
skämdes ohyggligt när de såg följderna. Henri sålde sin båt och
lämnade stan inom tjugofyra timmar. Han kunde inte bli kvitt
en efterhängsen och skrämmande känsla av att båten skulle driva
ut till havs med honom medan han låg och sov."
John Steinbeck – En underbar torsdag (Sweet Thursday, 1955)
Översättning av Carl Sundell.